Factions is now LIVE!
Hey Heroes! After some long working hours, the faction maps are finally live!
We've been as hyped as you are, and we are proud to release our three faction servers:
Factions Mars (Factions 1)
Factions Apollo (Factions 2)
And OPFactions Zeus (OPFactions)
For the first week, raiding will be disabled as a grace period. In this time go and build up your mega structured bases and prepare to defend yourself from those scrubs (I mean players).
Vote for fly has also been enabled, take advantage of this as it doesn't last forever! You can vote here at
vote.mineheroes.net
After you have voted 5 times, you will also receive access to /kit build, you can preview the kit using /kp build!
Along with this reset, I'm proud to announce our first tournament for these maps.
Dragon Egg Tournament
...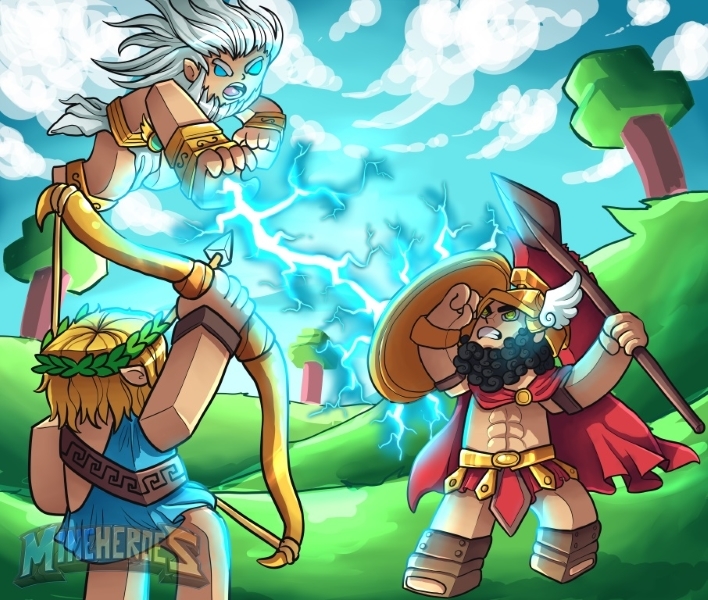 ​

Map Number: Map 17 (STARTED! /server Factions | /server factions2 | /server opfactions)
Minecraft version: 1.8 (1.7 to 1.11 clients can join but gameplay is based off of 1.8)
​
World Sizes
Overworld - 15,000 x 15,000 (-7500 -> 7500)
End - 10,000 x 10,000 (-5000 -> 5000)
Nether - 6,000 x 6,000 (-3000 -> 3000)
Map Details
Similar to previous maps all worlds feature flat bedrock at Y:1. The max build height in both the main and end world is 256. The end world has no void and is flat endstone from Y:1 - 40. The corners of all worlds can be claimed. Building against the border is allowed.
Due to the popularity of Factions last map, this season shall feature the addition of another Faction server. All Faction servers follow the theme of Gods; Faction Mars, Faction Apollo and Faction Zeus (OPFactions).
The new maps will reflect the theme chosen for them,featuring massive...
Hey guys, just a quick post to inform you on upcoming events and game updates.
Votes Reset
All vote totals have been reset for the new month.
Upcoming Factions and OPFactions Reset
The rumors are true, Factions and OPFactions will be resetting. The reset date is now scheduled to commence on Friday, March 10, 2017 at 5PM EST (countdown)
There's lots of changes, builds and new features that will be outlined in the reset post when we are ready for testing which is hopefully this weekend. Some of the biggest changes include the beginning of Factions 2 (a second factions server) and the introduction to server themes. The faction servers will be renamed to Factions Zeus (previously OPFactions), Factions Mars (previously Factions1) and Factions Apollo (Factions2).
​
The new maps will also feature more competition...
Sorry for the hiatus, most of the updates recently have been behind the scenes and preparation for awesome updates and things to come! From the recruitment of more developers, to moving all of our servers to new hosts, many changes and tweaks were made for future updates to come.

Valentines Lobby
Happy Valentines Day. Check out the cool new valentines lobby built by the build team @TeamFractal


Valentines Crate Keys
Back again this Valentines Day are our epic Valentine Crate Keys. These are keys that act like
Platinum Keys
but after you use them, you will receive an option to enter the name of an admirer to gift your reward to. Here is a demo:
Valentine Crate Keys can be purchased on all servers along with
Platinum Crate Keys
over at...
Introduction
Hey Heroes!
We're halfway through the first month of the year and MineHeroes has already seen record smashing player counts! As a result of this we'll need an extra helping hand. Thus, welcome to the January 2017 Staff Applications!
We have also recently promoted quite a bunch of Helpers from the previous intake:
Welcoming as Moderators:
@PotDropAndRole
@Tokyo_
@Skobe
@DJEV
@Kiaz
@NoteKlix
@Raw_Maki
@bedspread
@NotReady
@Reflective
Applications
The application process will remain similar to the last application round, where we will keep the applications open to the public to hear the communities response.
The applications are open until
THURSDAY 9PM EST
.
Application Format:
CLICK HERE
Countdown:...