With the reset underway and faction players going all out, we've included even more updates to both Factions and OPFactions.
FTop prize changes for Factions Mars
Due to Factions Mars having more players/competition from the start of the map, we've heard the feedback and the admins have decided to boost the rewards for Factions Mars for the FTOP tournament
(read more here)
and the buycraft vouchers for Factions1 are now:
1st place = $200 buycraft voucher towards the faction owner
2nd place = $100 buycraft voucher towards the faction owner
3rd place = $75 buycraft voucher towards the faction owner
End of the map prizes for F TOP are:
1st Faction - $500 Paypal
2nd Faction - $300 Paypal
3rd Faction - $250 Paypal
4th Faction - $150 Paypal
5th Faction - $100 Paypal...
​
Factions/OPFactions Reset and Raiding now allowed
Last week, Factions and OPFactions were reset and since then, many fixes and balancing updates were made. Now, 7 days later, raiding is now enabled! Good luck to everyone on your quest to become the best faction and win some of those F TOP prizes.

To learn more about the reset, visit: www.mineheroes.net/factions-reset
Click here to view the Factions/OPFactions competitive tournaments

PvP 2.0 (Season 2)


Season 2 of PvP is now live. A huge thank you to everyone that participated in the BETA. We will continue to work on aspects such as the anti-cheat and map builds as well as tournament modes and expanding on our duel systems. We will be rewarding players with the highest ELO,...
Factions is now LIVE!
Hey Heroes! After some long working hours, the faction maps are finally live!
We've been as hyped as you are, and we are proud to release our three faction servers:
Factions Mars (Factions 1)
Factions Apollo (Factions 2)
And OPFactions Zeus (OPFactions)
For the first week, raiding will be disabled as a grace period. In this time go and build up your mega structured bases and prepare to defend yourself from those scrubs (I mean players).
Vote for fly has also been enabled, take advantage of this as it doesn't last forever! You can vote here at
vote.mineheroes.net
After you have voted 5 times, you will also receive access to /kit build, you can preview the kit using /kp build!
Along with this reset, I'm proud to announce our first tournament for these maps.
Dragon Egg Tournament
...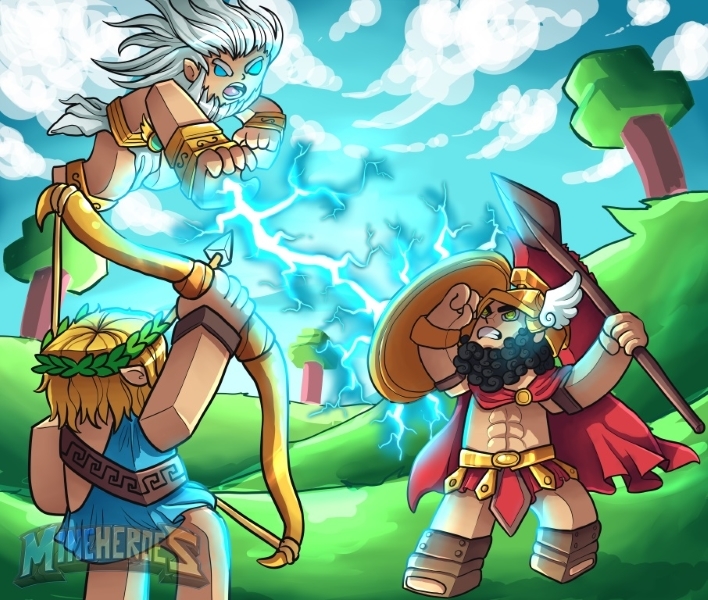 ​

Map Number: Map 17 (STARTED! /server Factions | /server factions2 | /server opfactions)
Minecraft version: 1.8 (1.7 to 1.11 clients can join but gameplay is based off of 1.8)
​
World Sizes
Overworld - 15,000 x 15,000 (-7500 -> 7500)
End - 10,000 x 10,000 (-5000 -> 5000)
Nether - 6,000 x 6,000 (-3000 -> 3000)
Map Details
Similar to previous maps all worlds feature flat bedrock at Y:1. The max build height in both the main and end world is 256. The end world has no void and is flat endstone from Y:1 - 40. The corners of all worlds can be claimed. Building against the border is allowed.
Due to the popularity of Factions last map, this season shall feature the addition of another Faction server. All Faction servers follow the theme of Gods; Faction Mars, Faction Apollo and Faction Zeus (OPFactions).
The new maps will reflect the theme chosen for them,featuring massive...
Hey guys, just a quick post to inform you on upcoming events and game updates.
Votes Reset
All vote totals have been reset for the new month.
Upcoming Factions and OPFactions Reset
The rumors are true, Factions and OPFactions will be resetting. The reset date is now scheduled to commence on Friday, March 10, 2017 at 5PM EST (countdown)
There's lots of changes, builds and new features that will be outlined in the reset post when we are ready for testing which is hopefully this weekend. Some of the biggest changes include the beginning of Factions 2 (a second factions server) and the introduction to server themes. The faction servers will be renamed to Factions Zeus (previously OPFactions), Factions Mars (previously Factions1) and Factions Apollo (Factions2).
​
The new maps will also feature more competition...